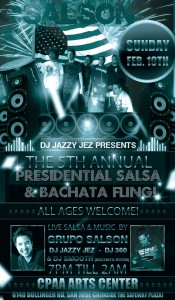 All age salsa and bachata event.
President's Day Weekend, entertainment with returning Live Salsa Band….Grupo Salson
————————–————-
Dance Classes! Special Dance Workshops
Over an hour of dance lessons!
BEGINNER SALSA ON2 (MAMBO) LESSON FROM 7:30PM TILL 8:30PM
ADVANCED SALSA ON2 (MAMBO) PATTERN LESSON FROM 8:30PM TILL 9:30PM
————————–————–
Live Band Between 10pm till 12am.
By Grupo Salson
Party Till 2am!!
——————
2 Rooms to choose from!!
Main Hall Salsa: Grupo Salson & DJ 360 (Official DJ of El V (Valenciano)
Bachata Room: DJ Smooth (Jimmy Bui)
(Bachata DJ of S.F. & Reno Bachata Festival)
————————–————–
-$10 At The Door *Before 9PM*
-$15 At The Door *After 9PM*
– Bottled Water, soda, red bull & Snacks available-
CPAA ARTS CENTER ( INSIDE SAFEWAY SHOPPING CENTER)
6148 BOLLINGER RD, San Jose, CA